You are here

2022 Financial Deadlines to Add to Your Calendar
2022 Financial Deadlines to Add to Your Calendar
Submitted by JMB Financial Managers on January 13th, 2022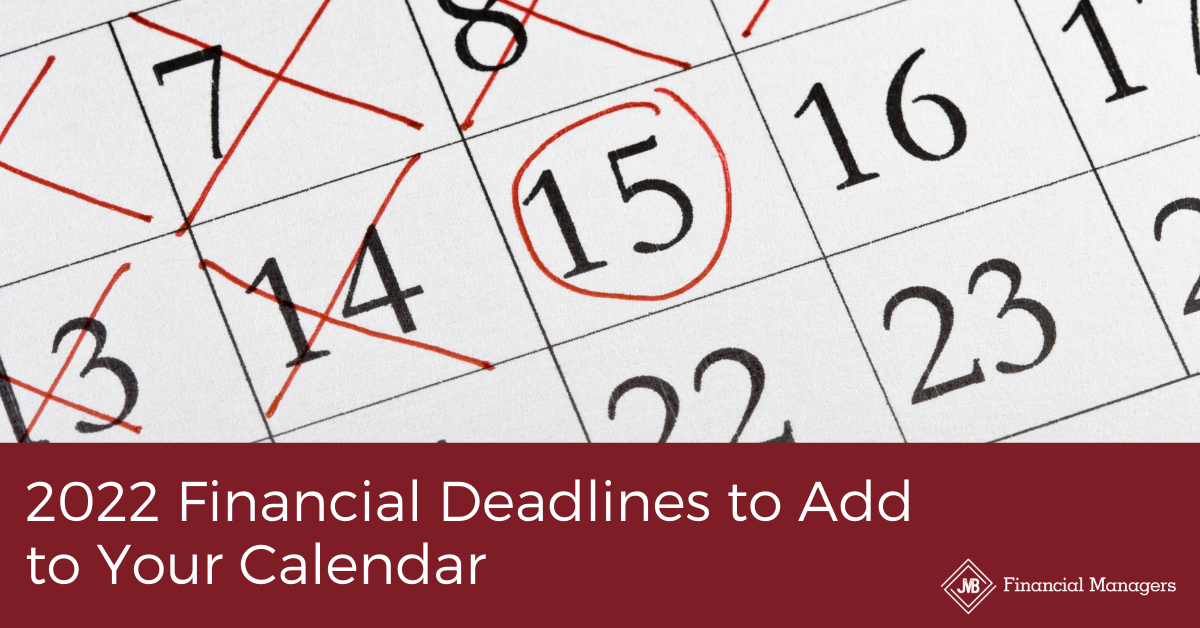 There are numerous financial deadlines throughout the year, and they can be difficult to keep track of. To simplify it we put together some of the most important deadlines that you should add to your calendar for 2022.
January 24, 2022 – First Day to File Federal Tax Return
This is typically the first day individuals can file tax returns, but tax software programs or financial advisors can often help you file your returns earlier.
March 15, 2022 –Corporate Tax Filings due
This is the last day for those with a Limited Liability Company ("LLC"), C Corporation or S Corporation, to file their corporate tax return or to apply for an extension on time.
March 31, 2022 –Medicare Parts A & B Deadline
For those enrolled in Medicare, March 31, 2022 is the last day to apply for Medicare Parts A & B for coverage starting July 2022.
April 18, 2022 – Last Day to File Federal Tax Return
This is the last day of tax season! Aside from being the last day to file taxes, April 18th also marks the last day to contribute to individual retirement accounts or health savings accounts and still be able to deduct the contributions from your 2021 taxable income. You must pay anything you owe in taxes by this date, but you can still file an extension as long as it is submitted on or before this day.
June 30, 2022 – FAFSA Filing Deadline
Do you have a recent graduate headed for higher education? Although campus life might look a little different this school year, the FAFSA deadline hasn't changed, June 30th is the last day you can submit your FAFSA forms. Please note that each state and university can have different deadlines, learn more here.
October Deadlines
October 1, 2022. The first day to file FAFSA. Consider filing early to maximize your time to plan for how to pay for college.
October 17, 2022. The tax filing deadline for those that filed an extension on their taxes in April. Are you looking for ways to maximize your income and reduce your taxes? Review the 3 Tax Savings Solutions brochure for tips.
November 1, 2022 – Federal Health Insurance Enrollment Period
Starting November 1st, you can:
Apply for new health insurance.
Renew, change, or update your existing plan for the year ahead.
Open enrollment runs through December 15th for insurance coverage starting January 1, 2023. Learn more at HealthCare.gov.
December 31st – Year End Reminders
IRA Contributions: You can boost your 401(k) contributions at the end of the year to reduce your taxable income.
Charitable Contribution Deadline: Get in the spirit of giving and make sure all your charitable contributions have been made before December 31st to receive maximum impact on your 2022 taxes.
Check on your Required Minimum Distributions: The CARES Act suspended the requirement that retirees older than 72 had to take required minimum distributions. This expired in 2021, so make sure you meet your Required Minimum Distributions for 2022. Check with your tax advisor to learn more.
Have Questions? Our Team is Here to Help.
Don't miss an important deadline or open enrollment period because you were unsure about what you needed to do. Our team is here as a resource for you. We're happy to answer any questions you may have about the financial deadlines mentioned above. Reach out to us at (949) 251-3544 or schedule an appointment here.
--
About the Author
Jack Brkich III, is the president and founder of JMB Financial Managers. A CERTIFIED FINANCIAL PLANNER™, Jack is a trusted advisor and resource for business owners, individuals, and families. His advice about wealth creation and preservation techniques have appeared in publications including The Los Angeles Times, NASDAQ, Investopedia, and The Wall Street Journal. To learn more visit https://www.jmbfinmgrs.com/.
Connect with Jack on LinkedIn or follow him on Twitter.