You are here

What We Do
What We Do
Retirement Planning | Tax Planning | College Planning | Investment Management | 401k & Pension Plan Services | Insurance Analysis | Asset Protection | Estate Planning | Charitable Planning |
Experience an array of benefits from the services that we provide to you:

Retirement Planning
You've been working your entire life, wouldn't it be nice if the thought of retirement was comforting, rather than worrisome? Let's join forces and create a plan to take the stress out of retirement and give you the ability to focus on the things that mean the most to you.
Surprisingly, fewer than half of Americans have calculated how much they will need to save in order to be able to afford to retire. Together, we can determine where you stand, whether or not you're saving enough, how much you'll be able to spend during retirement, and how long your savings will last, simply by creating a formal plan.

Once you know when you can afford to retire, you can turn your focus to being ready to retire, which is an entirely separate question that explores your readiness on a social, health, self-identity and personal relationship basis.
For more specific discussions on the issues and concerns pre-retirees are concerned about, please visit the Retirement Blog.
---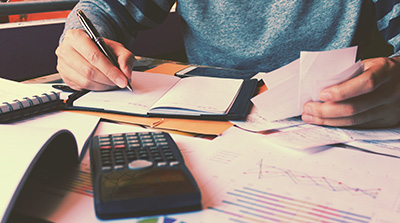 Income Tax Planning
Do you have 16 hours to devote to doing your taxes? 16 hours, that's the average amount of time you need to dedicate to your taxes each year. If income taxes are becoming an ever-increasing burden for you, formulating a comprehensive tax strategy is essential. In doing so, it will help to reduce your tax bill, protect your future, and increase your overall net worth.
The key to reducing most tax bills - and the frustration that comes with them - is acting well before the end of the calendar year. There are a number of legal strategies you can use to reduce the amount you owe but waiting until next April won't allow you to take advantage of them
As the tax code grows more complicated each year and the IRS answering fewer phone calls than ever before, hiring someone to relieve the stress of tax season has never looked more appealing. We will work hand-in-hand with your tax preparer to achieve the maximum benefit you deserve. Get started today with your free (no obligation) consultation.
---

College Cost Planning
It's no secret that paying for college has become very expensive. The average tuition has risen at a significantly faster rate than inflation. That makes college expenses an important part of your family's budget. Advanced planning gives you many more options when looking at colleges. In fact, this is an area where we feel we can be especially helpful - there are literally as many ways to make this work as there are eager freshmen each fall.
Taking steps to adequately prepare for the cost of your child's education can also put you on track to tend to things you may not have even thought about yet such as providing your children with financial security and protecting your own retirement savings. For more specific information, please visit the Paying for College Blog.
Planning to pay for your child's college education is more important now than ever before. Don't wait, get started today with a (no-obligation) consultation.
---

Investment Management
When it comes to investing, it is not what you make that matters, it is what you keep. Today's markets are increasingly volatile and highly reactive to economic and geopolitical news. Staying apprised and potentially ahead of swing in the markets is paramount to your investing success.
Understanding today's investing environment, your long-term goals, and having a strategy to blend them is a critical first step to building and accumulating wealth on the path toward achieving your goals. The second step is understanding how much risk your portfolio contains, and how it might react to positive and negative events for the markets.
Whether you're looking for a second opinion on about your existing portfolio or just need a helping hand with your 401(k) plan options, we'd love to help you craft a customized investment policy and help you implement it. Request your Free Portfolio Risk Analysis or schedule a no-obligation consultation today.
For the latest information about investment strategies visit the Investing Blog.
---

Asset Protection and Preservation
What you don't know can hurt you; therefore, when it comes to protecting what you've worked so hard to accumulate, ignorance is not bliss. We all need some sort of asset protection to safeguard ourselves in this litigious and electronically dangerous society.
Asset protection is a proactive strategy designed to shield your assets from future creditors, lawsuits, judgments and cyber theft. An asset protection plan can provide you with a range of protection features, from simple financial privacy all the way to judgment-proof asset protection.
JMB Financial Managers will help assemble the tools necessary to get you the protection that fits your situation. To learn more about how asset protection can benefit you, schedule your free (no obligation) consultation today.
---

Estate Planning and Wealth Transfer
Creating an estate plan provides many benefits; it helps transfer assets with ease and ensures your beneficiaries receive what you intended. An estate plan not only can help you pass on family values but can also reduce and or eliminates estate settlement costs.
With our assistance, you can make sure that your loves ones receive the estate you intended, in a timely, cost-effective, and tax-efficient manner. To learn more about estate planning strategies you may not have heard of or considered before , schedule your free (no obligation)consultation today
---

Charitable Gift Planning
Do you want to give back to the organization or community that has given so much to you? By establishing a charitable legacy, you're doing so much more than giving, you're establishing a collective family vision that can be passed on for years to come.
Charitable giving can also generate tax benefits for you. Some charitable gifting methods offer you notable tax advantages such as elimination of capital gains tax, tax deductions, estate tax reduction and tax-free growth.
Planning and maintaining a charitable legacy allows families time together that they may not otherwise have as geographical and generational drifts arise. Charitable legacies have so much more to offer than just a tax incentives; they are a unique way to bring your family together while generously giving back. To get started today, schedule your free (no obligation) consultation.
*Such trusts are used to develop a vehicle for donations to a favorite charity, which also allows for the reduction of income taxes through a charitable deduction and favorable tax treatment at the date of the gift by non-recognition of built-in capital gains. AND The use of trusts involves a complex web of tax rules and regulations. You should consider the counsel of an experienced estate planning professional before implementing such strategies.
---

Insurance Policy Review
Though it is hard to be completely prepared for the unimaginable, there are many ways in which you can do so. Insurance is the most frequently used safety net supporting your financial plan; we can assist you in determining which risks you can afford, which you need insurance against, and finding you the most efficient coverage.
With an overwhelming amount of options to choose from, we can help you decide what policy is the best fit for you and help you understand your policies in their entirety. To get started today schedule your free (no obligation) consultation.
---

401(k) & Pension Plan Services
In our experience working with dozens of 401(k) and Pension Plans, we understand the challenges you face in offering a plan to your employees. Keeping up with ever-changing Department of Labor regulations, following procedures laid out by the Internal Revenue Service, and continuously educating your employees can be a handful.
Luckily, we have a framework for helping you meet these responsibilities and staying on top of these tasks. This allows your employees to have a good experience with the plan and helps increase employee retention.
Allowing JMB Financial Managers to partner with you in these responsibilities will shift much of the burden and liability away from you and your company. With our support, you can implement and monitor a strategy for fiduciary and regulatory compliance that's right for your company's specific situation. Schedule your free (no obligation) consultation to get started today.